Hey, Manhattan Beach Families!
Summer is slowly winding down and you are already be starting to plan ahead for the new school year! We hope that you had an awesome adventure this summer whether it was with us at camp or on your own adventure abroad!
Either way, here is some useful food for thought when it comes to getting your ninja back to action without feeling awkward!
Check out our Families Page together
Sometimes it may feel "weird" to go back to the school after a long break. Kids may feel like a lot has changed, or that their friends may not remember them. One way to help them get back to that feeling of familiarity is to check out our Families Page on Facebook! Our page will be loaded with fun pictures from over the summer, filled with games, smiles, laughter, and even pictures of their friends! You can even have them pick out some cool pictures and let them hit the "Like" button! https://www.facebook.com/groups/BCMAkids/
Check out our YOUtube Page together
Kids may feel like a lot has changed and that they may be rusty. One way to help them get over they rust is to check out our YOutube Our channel is filled ways to help your child brush and improve their skills. Remember to like and Subscribe. button! http://beachcitiesmartialarts.net

Come to that Back to School Pizza Party (Dates TBA)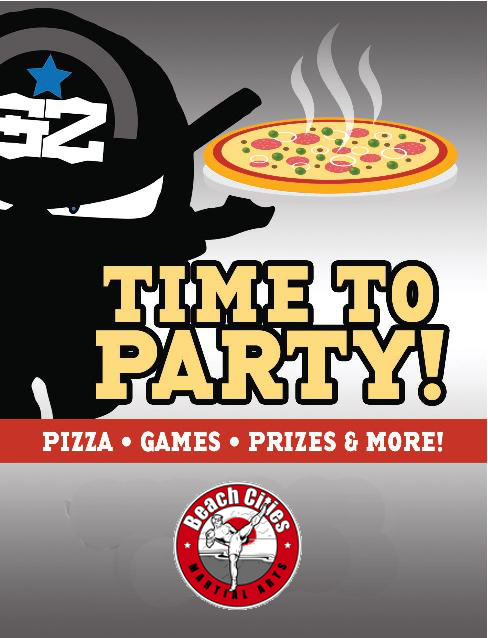 If you feel like your ninja is nervous about resuming classes, come to our Back to School Pizza Party! These are incredibly fun and relaxed environments! Here they will be able to relax, have fun and reconnect with their friends and their instructors. You can also use the buddy system if that makes them feel better, so bring a friend with you!
Private Lessons
Sometimes older students may feel like they have "fallen behind" and will likely be hesitant about returning, or you may notice less drive than normal. This is to be expected from the older kids and teens as they don't want to be embarrassed by what they don't know. An easy solution is to schedule a private lesson with your favorite instructor! By doing so, we can specifically work on areas that could use a little polishing which will go a long way in boosting confidence and self-esteem!
Just Do It
I feel like Nike had it correct on this one! The final step is just to get back to a normal routine. This includes at home, as well as, making your regularly scheduled class. You can always start small towards the tail end of summer and work your way back to the normal routine which can make the transition from summer to school year a little easier!
Again, we hope you had an amazing summer break but we are actually more excited to see all the smiling faces again on the mat! If you have any questions about how to get started again feel free to drop by the front desk or send us a message!