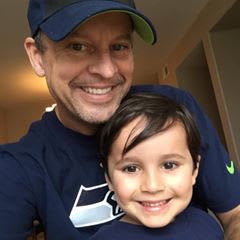 Master Dow is amazing with the kids!!! We recommend Beach Cities with TEN stars!!!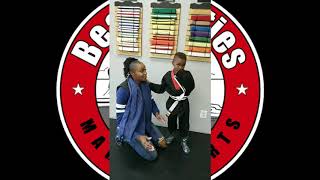 Since he's done the program I've noticed that Lincoln is really strong powerful he actually really stands out from his peers because he's very strong and athletic this awesome got great agility and balance but besides those physical things. Lincoln is he's actually winning an award in reading which has been encouraged through the homework that we've done here and he had a lot more confidence he was a little bit shy. definitely, the program has benefitted him in many ways – Mimi Nartey
The Nartey Family loves being part of our dojo family

Been training with master Dow for four months now and definitely challenging but the class mates and master Dow are very encouraging and very helpful Would recommend this class to beginners or active people trying to challenge themselves and stay healthy Lost 15 pounds so far and gained a lot of strength and I feel a lot stronger I still go to the gym and play sports and the class helps my coordination and determination My wife attends the class and my daughter attends the kids class as well and soon my two year old son will be training with master Dow Keep up the good work :)

This school is amazing!!! I have been bringing the boy I am baby-sitting for about 2 months and really wanted to try. I took my first lesson today and I really really enjoyed it:) Master Dow and the other students made me feel welcomed and helped me get started. Everyone was super patient with me since I am a big novice... I can't wait for my next lesson!!! Great school and awesome people:) highly recommended.

My son is 8 and has been training with Master Dow at BCMA for four years now. We like the progression based system that Master Dow employees because it provides his young students short term mile stones and associated goals. We also like Master Dow because he demands respect and attention from his young students. He is not running a day care and if the children are not focused he is quick with appropriate corrections. In addition, Master Dow has several tracks for the younger students and he does a very good job segmenting the students into the appropriate track so the more advanced students are appropriately challenged. Lastly, my son is a club soccer player and is excelling. He is the only boy on the team that is proficient with passing and shooting with both feet. I attribute much of that to his training at BCMA both from a development of discipline and physical training perspective.

My daughter absolutely bragging about Beach Cities Martial Art's academic level tranning with Master Dave Dow !!!!! A must do skills for any child, given a chance to my girl brought me confidence, proud and much more ! Nothing but the best! !!

love this program and how amazing my daughter is doing in it ! she loves her class and i love watching her, and ALL the kids grow and evolve over time !

Beach Cities Martial Arts has been a wonderful experience for my family.

After being out of competitive high school sports for a while I was looking for a place to get back into the mindset of being healthy. When I found Beach Cities Martial Art I signed up for the introductory classes. From the moment I walked in I was treated with respect and looked at as a student, not just a source of income which I have felt at gyms. The other students have been a wonderful support system and have been welcoming and encouraging. Not only have they helped me learn but they have helped to make me feel welcome.
I look forward to my classes after a long day of work. I know that I am going to be able to focus my energy into learning and working out. I leave class knowing that I was able to push myself physically and mentally. One of my favorite aspects is that we are not just learning the how but we are learning the why of the techniques. I do not feel like we are mindlessly going through the motions, every class I am fully mentally engaged. I would suggest Beach Cities Martial arts to all levels of students if you are willing to work hard and come with a positive outlook.

Master Dow works with everyone and gives the kids the best experience possible. It not only teaches the kids material arts but teaches them to be good people in life. thanks beach city martial arts